THE IMPACT OF PLASTIC WASTE IN THE MANGROVE COASTAL AREA, THE SERVICE AREA OF THE FISHERMAN GROUP "SEGARA GUNA BATU LUMBANG", SOUTH DENPASAR BALI
Article Sidebar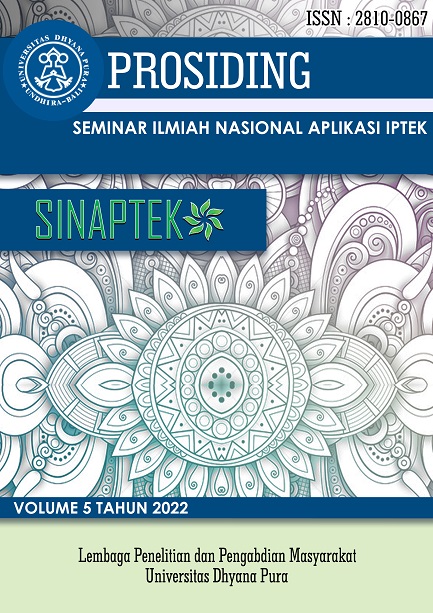 Published: Jan 31, 2023
Dimensions
Statistics
Read Counter :
32
Download :
40
Main Article Content
Sidhi Bayu Turker
Abstract
ABSTRACT
The "Segara Guna Batu Lumbang" Fisherman Group Denpasar is one of the fishermen groups that traditionally manages an area of the Ngurah Rai Mangrove Forest Park Tourism Conservation Area, South of Denpasar. The mangrove forest area has problems related to waste sent from several rivers, namely Tukad Badung, Tukad Mati, and Denpasar Estuary Dam. This condition causes a reduction in the beauty of the mangrove forest. The shipping waste that is quite dangerous is plastic waste which can cause serious disruption to the growth of mangrove seedlings. This study is conducted to determine the impact caused by the flow of plastic waste on the growth of mangrove forests, activities that can be carried out to minimize environmental problems, and the benefits for the environment and fishermen in the mangrove forest area in South Denpasar to support sustainable tourism development.
The method used in this research is a qualitative method through Data Collection Procedures which includes qualitative observations, qualitative interviews, and qualitative documents. Data collection focused on the perceptions and motivations of the management and members of the fishermen's group, and visitors, accompanied by in-depth interviews to find out the strengths, weaknesses, opportunities, and threats faced by fisherman management in overcoming the impact of plastic waste shipments.
Through this research, it is hoped that the Segara Guna Batu Lumbang Fisherman Group can develop strategies for its conservation programs and can take part as an education center for the community, especially students to learn about the importance of mangrove forest conservation, attract voluntourism tourists to visit and carry out activities to clean mangrove areas and planting mangrove seedlings. Besides that, this research is also expected to give a model for organizing voluntourism activities in the mangrove forest area with local fisherman groups.
Kata kunci: perception, motivation, voluntourism, mangrove conservation, sustainable
tourism development.
Article Details
How to Cite
Turker, S. B. (2023). THE IMPACT OF PLASTIC WASTE IN THE MANGROVE COASTAL AREA, THE SERVICE AREA OF THE FISHERMAN GROUP "SEGARA GUNA BATU LUMBANG", SOUTH DENPASAR BALI. Seminar Nasional Aplikasi Iptek (SINAPTEK), 5. Retrieved from https://jurnal.undhirabali.ac.id/index.php/SINAPTEK/article/view/2360


This work is licensed under a Creative Commons Attribution-NonCommercial-ShareAlike 4.0 International License.