PENGARUH PENERAPAN SUPERVISI DIALOGIS TERHADAP KINERJA MANAJEMEN PEMBELAJARAN TENAGA PENDIDIK DI INSTITUSI PENDIDIKAN VOKASI
Article Sidebar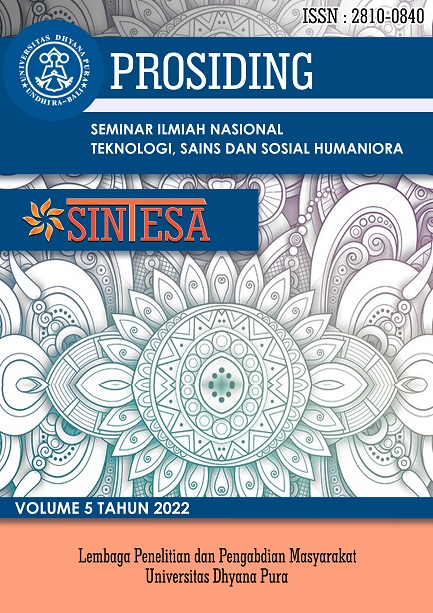 Published: Jan 20, 2023
Dimensions
Statistics
Read Counter :
58
Download :
35
Main Article Content
I Gede Dharma Putra
Yeyen Komalasari
Abstract
ABSTRAK
Permasalahan yang disoroti dalam penelitian ini yaitu : rendahnya kinerja manajemen pembelajaran di kalangan para guru Mata Pelajaran di kalangan para guru mata pelajaran dan kelemahan pendekatan supervisi konvensional (satu arah(dalam kelemahan). Adapun tujuan yang ingin dicapai dalam penelitian ini yaitu untuk mengetahui pengaruh penerapan supervisi dialogis terhadap kinerja manajemen pembelajaran guru mata pelajaran di SMK Negeri 3 Tabanan. Metode penelitian ini merupakan penelitian Quasi Eksperimen pendekatan penelitian yang di gunakan adalah penelitian kombinasi (mix methods), yaitu kuantitatif dan kualitatif. Teknik pengambilan data yang digunakan yaitu teknik quisioner, observasi, dan wawancara mendalam. Teknik pengambilan data yang digunakan adalah analisis regresi linear.
Kata kunci: Supervisi dialogis, kinerja manajemen pembelajaran.
ABSTRACT
The problems highlighted in this study are: the low performance of learning management among subject teachers among subject teachers and the weaknesses of the conventional supervision approach (one way (in weakness). The objectives to be achieved in this study are to determine the effect of applying Dialogical supervision of the learning management performance of subject teachers at Tabanan State Vocational School 3. This research method is a quasi-experimental research. , and in-depth interviews.The data collection technique used is linear regression analysis.
Keywords: Dialogical supervision, learning management performance.
Article Details
How to Cite
Putra, I. G. D., & Komalasari, Y. (2023). PENGARUH PENERAPAN SUPERVISI DIALOGIS TERHADAP KINERJA MANAJEMEN PEMBELAJARAN TENAGA PENDIDIK DI INSTITUSI PENDIDIKAN VOKASI. Seminar Ilmiah Nasional Teknologi, Sains, Dan Sosial Humaniora (SINTESA), 5. Retrieved from https://jurnal.undhirabali.ac.id/index.php/sintesa/article/view/2218


This work is licensed under a Creative Commons Attribution-NonCommercial-ShareAlike 4.0 International License.