ANALISIS KINERJA PERUSAHAAN A. I. ARCHITECT DENGAN PENDEKATAN BALANCED SCORECARD
Article Sidebar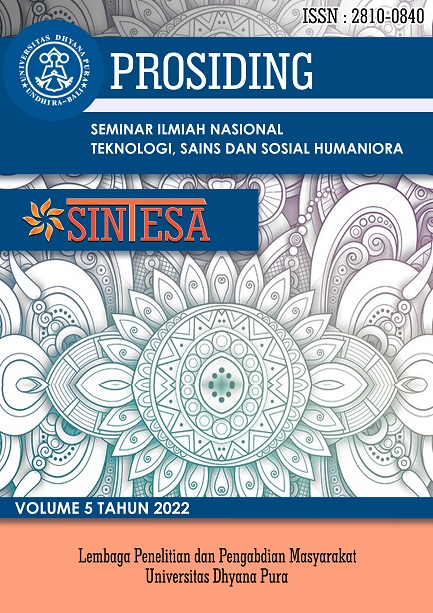 Published: Jan 21, 2023
Dimensions
Statistics
Read Counter :
47
Download :
31
Main Article Content
I Putu Precious Ananta Yohanes
R. Tri Priyono Budi Santoso
Abstract
ABSTRAK
A.I.Architect adalah perusahaan yang bergerak dibidang jasa konstruksi bangunan. Berdiri sejak 2012, penulis turut mengikuti perkembangan perusahaan ini sejak awal perusahaan ini berdiri. Mengawali debutnya dengan membangun sebuah gazebo sederhana dari kayu A.I.Architect saat ini sudah memiliki kapasitas untuk membangun villa-villa, gedung sekolah dan perumahaan yang valuasinya miliaran rupiah. Penulis yang merupakan bagian dalam perusahaan ini sejak tahun 2020 sebagai arsitek kemudian tertarik mengangkat perspektif Balance Scorecard untuk menganalisa perusahaan A.I.Architect. Metode Balance Scorecard lebih komprehensif dibandingkan dengan metode yang lain, karena tidak hanya mengukur aspek keuangannya saja, tetapi juga aspek non keuangan. Tujuan penelitian ini adalah untuk mengevaluasi kinerja perusahaan dengan pendekatan Balanced Scorecard (BSC) dengan membatasi pada perspektif pelanggan, perspektif bisnis internal dan perspektif pembelajaran dan pertumbuhan. Sumber data yang digunakan yaitu data primer (kuesioner) dari internal perusahan dan data sekunder sebagai data pendukung dari referensi luar. Data kemudian diolah dengan cara mengukur pencapaian dari pembobotan kinerja yang telah ditetapkan dan dibandingkan dengan realisasi kinerjanya.
Kata kunci: Arsitek, Arsitektur, Kinerja, Balanced scorecard, perspektif pelanggan, perspektif bisnis internal, dan perspektif pembelajaran dan pertumbuhan
ABSTRACT
A.I.Architect is a building construction services company. Founded in 2012, starting debut by building a simple gazebo from wood A.I.Architect currently has capacity to build villas, school buildings and residential complex whose valuation is billions rupiah. Author who has been part of this company since 2020 as an architect then interested to bringing up the topic perspective of the Balance Scorecard to analyze the company. The Balance Scorecard method is more comprehensive than other methods, because it not only measures the financial aspects, but also non-financial aspects. The purpose of this study is to evaluate the company's performance with a Balanced Scorecard (BSC) approach by limiting it to the customer perspective, internal business perspective and learning and growth perspective. The primary data sources are (questionnaires) from the company's internals and secondary data as supporting data from external references. The data then processed by measuring the achievement of the predetermined performance weighting and compared with the realization of the performance.
Keywords: Architect, Architecture, Performance, Balanced scorecard, customer perspective, internal business perspective, and learning and growth perspective
Article Details
How to Cite
Yohanes, I. P. P. A., & Budi Santoso, R. T. P. (2023). ANALISIS KINERJA PERUSAHAAN A. I. ARCHITECT DENGAN PENDEKATAN BALANCED SCORECARD. Seminar Ilmiah Nasional Teknologi, Sains, Dan Sosial Humaniora (SINTESA), 5. Retrieved from https://jurnal.undhirabali.ac.id/index.php/sintesa/article/view/2236


This work is licensed under a Creative Commons Attribution-NonCommercial-ShareAlike 4.0 International License.