STRATEGI PEMASARAN PT. KOMODO ESCAPE PRAWARA DALAM MENINGKATKAN PENJUALAN
Article Sidebar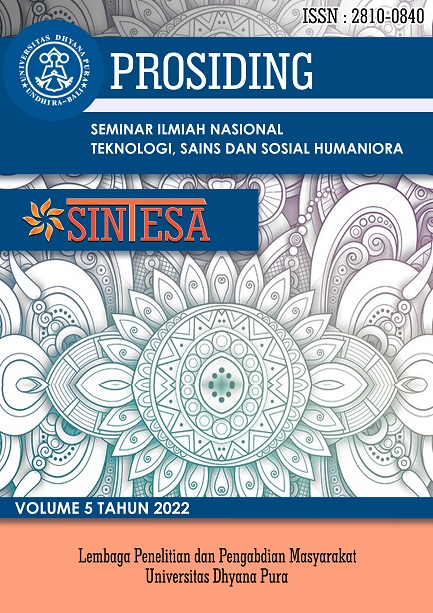 Published: Jan 21, 2023
Dimensions
Statistics
Read Counter :
43
Download :
6
Main Article Content
I Nengah Kurniawan
Senita Nanut
GN Joko Adinegara
Abstract
ABSTRAK Pada zaman seperti saat ini, persaingan bisnis menjadi semakin lebih berkembang. Perkembangan dunia usaha ini bertujuan untuk pemuasan serta pemenuhan kebutuhan gaya hidup konsumen dan penuh persaingan menuntut perusahaan untuk terus melakukan inovasi. Tujuan dari penelitian ini adalah untuk mengetahui strategi pemasaran dalam meningkatkan tingkat penjualan produk. Penelitian ini menggunakan metode deskriptif kualitatif, teknik pengumpulan data dalam penelitian dengan observasi, wawancara, kepustakaan, kuesioner dan dokumentasi. Hasil penelitian menunjukkan perusahaan dalam posisi pertumbuhan (growth), memperhatikan kekuatan utama dari perusahaan, memperluas area pemasarannya, menjalin dan memperkuat kerjasama dengan industry lain dengan cara offline maupun online, memperbaiki prosedur – prosedur internal perusahaan dengan meningkatkan kualitas produk dan jasa perusahaan. Analisis SWOT menghasilkan 4 Strategi alternatif yaitu strategi Strength Opportunity (SO) diterapkan dalam 3 strategi dengan masing masing program didalamnya. Strategi Weakness Opportunity (WO) membentuk 3 strategi dan program yang ada didalamnya. Strategi ketiga yaitu Strategi Strength Treath (ST) ini membentuk 2 strategi baru yang memiliki program juga di dalamnnya seperti Mempertahankan citra perusahaan, terus melakukan inovasi produk, komunikasi dengan baik kepada konsumen, memberikan kesesuaian harga dan kualitas produk akan menciptakan keloyalitasan konsumen. Yang terakhir adalah Strategi Weakness Threat (WT) yang membentuk 2 strategi seperti: Meningkatkan fasilitas dan pelayanan yang nyaman bagi konsumen, memberikan manfaat produk yang lebih agar konsumen merasa puas dan terlayani dengan baik sehingga potensi bersaing dengan pesaing baru akan semakin kecil. Keseluruhan Strategi tersebut bisa dijadikan sebagai alternatif strategi dan pengambilan keputusan pemasaran untuk meningkatkan tingkat penjualan produk. Kata Kunci : Strategi pemasaran, Analisis SWOT, penjualan produk ABSTRACT In this era, business competition is becoming more and more developed. The development of the business world aims to satisfy and meet consumer lifestyle needs and full of competition requires companies to continue to innovate. The purpose of this study is to determine the marketing strategy in increasing the level of product sales. This study uses a qualitative descriptive method, and collected data techniques in research with observation, interviews, literature, questionnaires, and documentation. The results of the study showed that the company is at growth position, pays attention to the main strengths of the company, expands its marketing area, establishes and strengthens collaboration with other industries offline and online, improves the company's internal procedures by increasing the quality of the company's products and services. The SWOT analysis produces 4 alternative strategies,
namely the Strength Opportunity (SO) strategy is implemented in 3 strategies with each
program in it. The Weakness Opportunity (WO) strategy forms 3 strategies and programs
within them. The third strategy, namely the Strength Treaty (ST) Strategy, forms 2 new
strategies which also have programs within them such as maintaining the company's image,
continuing to innovate products, communicating well to consumers, and providing price and
product quality compatibility which will create consumer loyalty. The last is the Weakness
Threat Strategy (WT) which forms 2 strategies such as: Improving convenient facilities and
services for consumers, and providing more product benefits so that consumers feel
satisfied and well-served so that the potential to compete with new competitors will be
smaller. The overall strategy can be used as an alternative marketing strategy and decisionmaking
to increase product sales.
Keywords: Marketing strategy, SWOT analysis, product sales
Article Details
How to Cite
Kurniawan, I. N., Nanut, S., & Adinegara, G. J. (2023). STRATEGI PEMASARAN PT. KOMODO ESCAPE PRAWARA DALAM MENINGKATKAN PENJUALAN. Seminar Ilmiah Nasional Teknologi, Sains, Dan Sosial Humaniora (SINTESA), 5. Retrieved from https://jurnal.undhirabali.ac.id/index.php/sintesa/article/view/2238


This work is licensed under a Creative Commons Attribution-NonCommercial-ShareAlike 4.0 International License.