CONTENT AND VISUAL ANALYSIS ON SHORT FILM: OLAK
Article Sidebar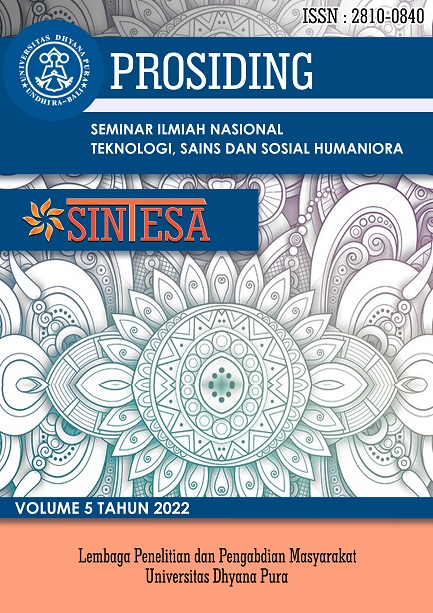 Published: Jan 21, 2023
Dimensions
Statistics
Read Counter :
42
Download :
33
Main Article Content
Ni Putu Anggie Kusuma Wardhani
Putu Mayra Elkie Shafira
Putu Chrisma Dewi
Putu Chris Susanto
Abstract
ABSTRACT
The purpose of this study is to examine a short film in terms of content and visuals. Even though a film is of short duration, it does not deny that there are many things that can be analyzed, including the content and visuals in the short film. The authors analyzed the Indonesian short film titled "Olak", directed by Wishnu Hazmi Lazuardi (2018). This study uses a non-participant descriptive qualitative method, analyzing existing data from sources on the internet without direct contact with the participants that are included in the data. The authors analyzed this short film in the context of its content and visual appearance, particularly commenting on the significance of repeating the same scene in a time loop—as a commentary of the dynamics that occur in everyday lives of typical Indonesian teenagers.
Keywords: short film, content analysis, visual analysis, social dynamics, teenage film.
Article Details
How to Cite
Wardhani, N. P. A. K., Shafira, P. M. E., Dewi, P. C., & Susanto, P. C. (2023). CONTENT AND VISUAL ANALYSIS ON SHORT FILM: OLAK. Seminar Ilmiah Nasional Teknologi, Sains, Dan Sosial Humaniora (SINTESA), 5. Retrieved from https://jurnal.undhirabali.ac.id/index.php/sintesa/article/view/2244


This work is licensed under a Creative Commons Attribution-NonCommercial-ShareAlike 4.0 International License.