PENINGKATAN HASIL BELAJAR SIMPLE PAST TENSE DENGAN MODEL PEMBELAJARAN PICTURE AND PICTURE
Article Sidebar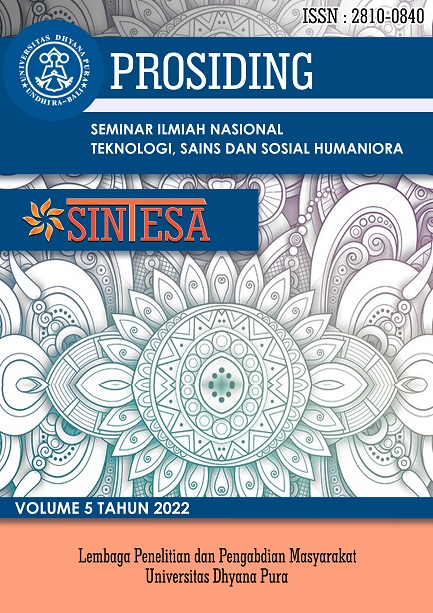 Published: Jan 22, 2023
Dimensions
Statistics
Read Counter :
84
Download :
148
Main Article Content
I Gusti Nyoman Putra Kamayana
Putu Chrisma Dewi
Abstract
ABSTRAK
Penelitian ini adalah Penelitian Tindakan Kelas yang dilaksanakan di SD Anugrah Denpasar. Dalam penelitian ini peneliti mengambil sampel di kelas VI. Penelitian ini melakukan 2 siklus dan tiap-tiap siklus terdiri dari rencana, tindakan, observasi dan refleksi. Dalam penelitian ini ada 30 siswa sebagai objek penelitian. Siswa-siswa harus mencapai nilai 75, kriteria ketuntasan minimal (KKM).Sebelum penelitian, tidak ada siswa yang mencapai KKM. Hasil penelitian menunjukkan adanya peningkatan hasil belajar siswa tiap siklus, hal ini dapat di lihat pada siklus I diperoleh 2 siswa atau 6,67% tuntas, dan masih 18 siswa atau 93,33% tidak tuntas. Pada siklus II diperoleh banyaknya siswa yang tuntas adalah 16 siswa atau 86,67% tuntas, selebihnya 4 siswa atau 33,3% masih belum tuntas, dengan kata lain penggunaan picture and picture sangat berpengaruh terhadap peningkatan hasil belajar siswa. Indikator keberhasilan penelitian ini adalah jika presentase siswa yang nilai hasil belajarnya tuntas mencapai 80% keatas maka penelitian sudah bisa dikatakan berhasil.
Kata kunci : Hasil belajar, Simple Past Tense dan Picture and Picture
Article Details
How to Cite
Kamayana, I. G. N. P., & Dewi, P. C. (2023). PENINGKATAN HASIL BELAJAR SIMPLE PAST TENSE DENGAN MODEL PEMBELAJARAN PICTURE AND PICTURE. Seminar Ilmiah Nasional Teknologi, Sains, Dan Sosial Humaniora (SINTESA), 5. Retrieved from https://jurnal.undhirabali.ac.id/index.php/sintesa/article/view/2270


This work is licensed under a Creative Commons Attribution-NonCommercial-ShareAlike 4.0 International License.