PERAN SOSIAL MEDIA DALAM MENINGKATKAN DIGITAL BRANDING PERUSAHAAN JASA
Article Sidebar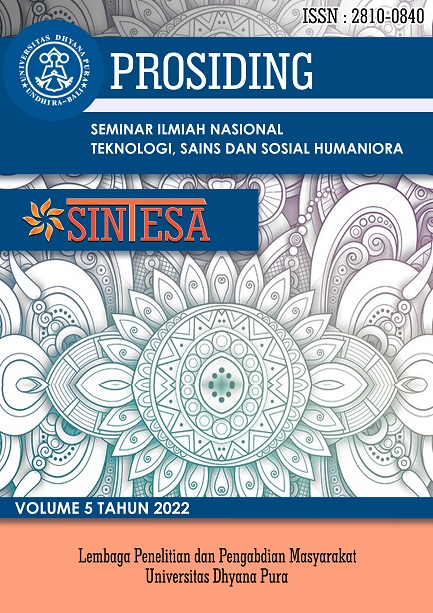 Published: Jan 22, 2023
Dimensions
Statistics
Read Counter :
67
Download :
107
Main Article Content
Ni Putu Lely Handayani
Dr. GN. Joko Adinegara
Abstract
ABSTRAK
Digital Branding merupakan suatu proses yang bermanfaat untuk membangun dan membingkai brand suatu perusahaan jasa secara online, terutama menggunakan sosial media seperti Instagram, Youtube, Tiktok, Facebook dan masih banyak lagi. Tujuan dari penelitian ini adalah untuk mengetahui seberapa penting dan efektifnya membangun digital branding dalam mengembangkan suatu perusahaan jasa baik dari sisi pengenalan produk jasa dan promosi, agar lebih dikenal oleh konsumen di dunia digital serta menjaga citra baik suatu perusahaan. Metode penelitian ini menggunakan metode penelitian kualitatif eksploratif yang didukung berbagai referensi dan pengalaman penulis. Hasil penelitian yang diperoleh yaitu dengan digital branding secara signifikan mempengaruhi citra suatu perusahaan. Membangun digital branding membuat suatu perusahaan bisa lebih mudah di ingat oleh konsumen dengan mengadopsi tren yang sedang berlangsung saat ini. Digital Branding juga terbukti dapat meningkatkan bisnis karena citra perusahaan yang positif akan memberikan nilai peluang investasi yang lebik menarik. Apabila digital branding dipelihara dengan baik dalam jangka panjang, maka akan memperkuat brand itu sendiri dan menempatkan brand tersebut pada posisi strategis dalam industrinya di antara competitor yang sejenis. Brand yang positif juga memberikan kepercayaan kepada konsumen sehingga konsumen tersebut akan merekomendasikan perusahaan jasa kepada orang lain, ini juga akan membantu meningkatkan revenue suatu perusahaan jasa.
Kata kunci: Digital Branding, Sosial Media, Citra Perusahaan.
ABSTRACT
Digital Branding is a useful process to build and create the brand of a service online company, especially using social media such as Instagram, Youtube, Tiktok, Facebook and many more. The purpose of this research is to find out how important and effective it is to build digital branding in developing a service company both in terms of product introduction services and promotions, so that the company is better known by consumers in the digital and it can maintain a good image of a company. This research method uses an exploratory qualitative research methods supported by various references and the author's experience. The results of the research obtained that digital branding significantly affects the image of a company. Building digital branding makes a company easier for consumers to remember by adopting current trends. Digital branding is also proven to increase business because a good image of the company will provide more attractive investment opportunities. If digital branding is well maintained in a long term, it will strengthen the brand itself and the position of the brand in strategic position among similar competitors. In addition, A positive brand gives trust to consumers so that the consumers will recommend service company to others, this will help to increase the revenue of our company.
Keywords: Digital Branding, Social Media, Brand Image.
Article Details
How to Cite
Handayani, N. P. L., & Adinegara, D. G. J. (2023). PERAN SOSIAL MEDIA DALAM MENINGKATKAN DIGITAL BRANDING PERUSAHAAN JASA. Seminar Ilmiah Nasional Teknologi, Sains, Dan Sosial Humaniora (SINTESA), 5. Retrieved from https://jurnal.undhirabali.ac.id/index.php/sintesa/article/view/2271


This work is licensed under a Creative Commons Attribution-NonCommercial-ShareAlike 4.0 International License.