Strategi pemasaran di Agro Puncak Bukit Lestari dalam upaya meningkatkan eksistensi dimasa Pendemi Covid-19
Article Sidebar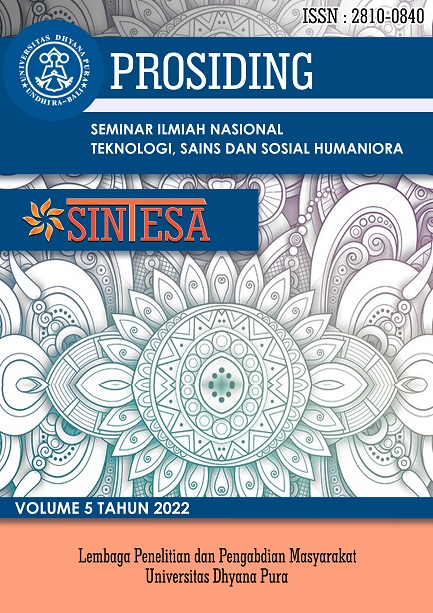 Published: Jan 22, 2023
Dimensions
Statistics
Read Counter :
35
Download :
35
Main Article Content
Dewa Ayu Dwi Sukma Dewi
Elsiana Septiani Ghea Amanda
Gusti Ngurah Joko Adinegara
Abstract
ABSTRAK
Pandemi Covid-19 yang berlangsung selama 2 (dua) tahun lebih sejak tahun 2019 mampu membuat lumpuh perekonomian dan bidang lainnya. Industri pariwisata merupakan kegiatan ekonomi yang terdampak paling parah akibat pandemi Corona Virus Disease 19. Agro puncak bukit lestari merupakan sebuah camping ground yang mengembangkan bisnis tempat kemah dan menginap dengan konsep alam. Pasca Pandemi Covid-19, Camping Ground di Agro Puncak Bukit Lestari memiliki kesempatan untuk meningkatkan jumlah kunjungan wisata dan mengembangkan potensinya. Berbagai cara dilakukan untuk berlomba lomba meningkatkan tingkat kunjungan. Tujuan penelitian ini untuk menambah wawasan, meningkatkan dan mempertahankan eksistensi pada masa pasca pandemi covid-19, membuat strategi pemasaran yang baru di tempat ini dan membuka peluang bagi pelaku usaha untuk menawarkan kembali destinasi wisata unggulan yang ada di daerahnya, termasuk salah satunya adalah Camping Ground Di Agro Puncak Bukit Lestari. Metode yang di gunakan dalam penelitian ini adalah literature review. Strategi yang dilakukan adalah meningkatkan proses pemasaran digital yaitu melalui media sosial seperti instagram, facebook dan market place lainnya, sehingga proses pemasaran dimasa saat ini tidak hanya bergantung pada pemasaran manual namun lebih efektif dengan pemasaran online.
Kata Kunci: Strategi Marketing, Covid-19, Camping Ground, Digital marketing
ABSTRACT
The Covid-19 pandemic which has lasted for more than 2 (two) years since 2019 has paralyzed the economy and other fields. The tourism industry is the economic activity that has been most severely affected due to the Corona Virus Disease 19 pandemic. Agro Puncak Bukit Lestari is a camping ground that develops a business for camping and staying overnight with the concept of nature. After the Covid-19 Pandemic, the Camping Ground at Agro Puncak Bukit Lestari has the opportunity to increase the number of tourist visits and develop its potential. Various ways are done to compete to increase the level of visits. The purpose of this research is to add insight, improve and maintain existence in the post-covid-19 pandemic, create new marketing strategies in this place and open opportunities for business actors to offer back superior tourist destinations in their regions, including one of which is the Camping Ground at Agro Puncak Bukit Lestari. The method used in this research is literature review. The strategy taken is to improve the digital marketing process, through social media such as Instagram, Facebook and other market places, so that the current marketing process does not only depend on manual marketing but is more effective with online marketing.
Keywords: Marketing Strategy, Covid-19, Camping Ground, Digital marketing
Article Details
How to Cite
Dewi, D. A. D. S., Amanda, E. S. G., & Adinegara, G. N. J. (2023). Strategi pemasaran di Agro Puncak Bukit Lestari dalam upaya meningkatkan eksistensi dimasa Pendemi Covid-19. Seminar Ilmiah Nasional Teknologi, Sains, Dan Sosial Humaniora (SINTESA), 5. Retrieved from https://jurnal.undhirabali.ac.id/index.php/sintesa/article/view/2274


This work is licensed under a Creative Commons Attribution-NonCommercial-ShareAlike 4.0 International License.