RANCANGAN DASAR GENRE PADA FILM PENDEK HOROR SINGSOT KARYA RAVACANA
Article Sidebar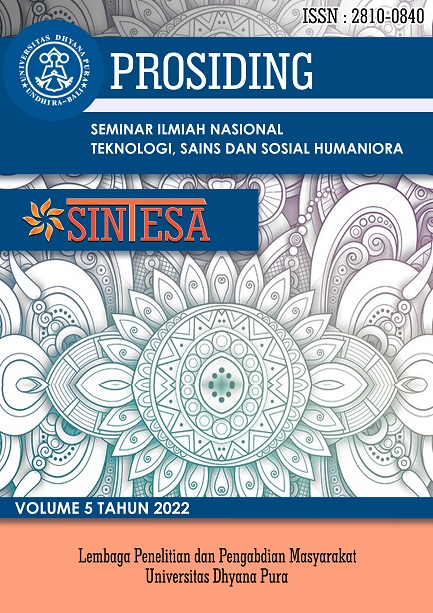 Published: Feb 10, 2023
Dimensions
Statistics
Read Counter :
64
Download :
68
Main Article Content
Modesta Hemal
Yowel Walilo
Putu Chrisma Dewi
I Gusti Putra Kamayana
Abstract
ABSTRAK
Penelitian ini menganalisis karakteristik rancangan dasar genre film horor pendek Indonesia yang berjudul "Singsot". Penelitian ini dianggap penting karena film pendek juga merupakan wahana produktif bagi para anak sekolah, mahasiswa pada bidang perfilman maupun penyiaran, dan sineas pemula ataupun juga sineas yang profesional dalam menciptakan kreasi berupa film. Di dalam sinema, genre diinterpretasikan seperti bentuk atau penggolongan sekelompok film yang mempunyai karakteristik atau tanda yang serupa (khas), sebagaimana latar, kandungan (isi) dan subjek, tema, format cerita, tindakan atau peristiwa, durasi waktu, gaya, situasi, ikon, suasana hati dan karakter. Jenis penelitian yang digunakan adalah penelitian kualitatif untuk memahami adanya karakteristik dalam genre film horor melalui rancangan dasar genre yakni Repertoire of Elements antara lain narasi, karakter, setting, ikonografi dan gaya (style). Metode yang digunakan yakni deskriptif untuk menguraikan seluruh pembahasan. Pembahasan dalam penelitian menggunakan konvensi-konvensi genre yang ada pada sebuah film khususnya pada film genre horor. Penelitian ini menunjukkan bahwa genre horor memiliki genre primer, yakni genre Horor, Drama dan Aksi. Sedangkan genre sekunder pada film ini adalah supernatural.
Keywords: analisis genre, film pendek, film horror
Article Details
How to Cite
Hemal, M., Walilo, Y., Dewi, P. C., & Kamayana, I. G. P. (2023). RANCANGAN DASAR GENRE PADA FILM PENDEK HOROR SINGSOT KARYA RAVACANA. Seminar Ilmiah Nasional Teknologi, Sains, Dan Sosial Humaniora (SINTESA), 5. Retrieved from https://jurnal.undhirabali.ac.id/index.php/sintesa/article/view/2406


This work is licensed under a Creative Commons Attribution-NonCommercial-ShareAlike 4.0 International License.