Pengaruh Ukuran Perusahaan, Leverage, dan Profitabilitas terhadap Manajemen Laba pada Sub Sektor Industri Makanan dan Minuman di Bursa Efek Indonesia
Article Sidebar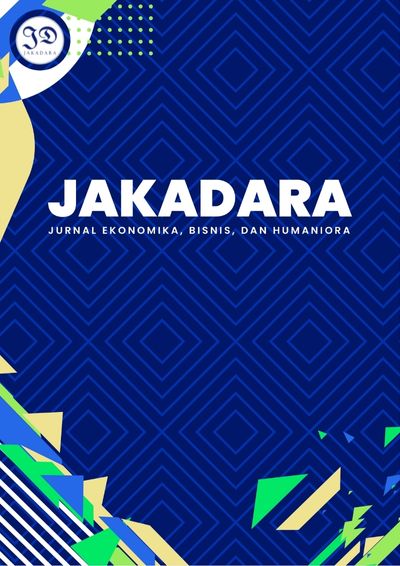 Published: Jan 24, 2023
Dimensions
Statistics
Read Counter :
45
Download :
3
Main Article Content
Agustina Ira Puspa Damayanti
Ni Luh Putu Sri Purnama Pradnyani
Eka Putri Suryantari
Abstract
Abstrak
Tujuan dari penelitian ini adalah untuk mengetahui pengaruh ukuran perusahaan,
leverage
dan profitabilitas terhadap manajemen laba pada perusahaan industri makanan dan minuman yang terdaftar di Bursa Efek Indonesia. Metode penelitian yang digunakan adalah
purposive sampling
yaitu data dipiih melalui kriteria yang sesuai dengan tujuan penelitian. Jenis data yang digunakan pada penelitian yaitu data kualitatif dan kuantitatif. Penelitian ini menggunakan sampel dari perusahaan makanan dan minuman di BEI dengan mengikuti kriteria dalam penentuan sampel penelitian. Melalui kriteria penentuan sampel, jumlah perusahaan sebanyak 14 perusahaan. Metode pengumpulan data diperoleh melalui hasil pengolahan data menggunakan program SPPS 16.0 for Windows. Teknik analisis data menggunakan uji analisis statistik deskriptif, uji asumsi klasik dan uji regresi linear berganda. Hasil penelitian menunjukkan bahwa ukuran perusahaan berpengaruh positif dan signifikan terhadap manajemen laba, sedangkan
leverage
dan profitabilitas tidak berpengaruh terhadap manajemen laba. 
Kata kunci:
Ukuran Perusahaan, Leverage, Profitabilitas, Manajemen Laba
Abstract
The study aims to determine the effect of company size, leverage and profitability for earning management in the food and beverage industries sub-sector on the Indonesia Stock Exchange. Purposive sampling used as a research method by choosing the data through criteria aligned with the purpose of this study, and the data used qualitative and quantitative. It used samples from the food and beverage industry on the Indonesian Stock Exchange by following criteria for research sample determination. Through the usage research sample determination, the industry totaled 14 companies. The data collected as a result of data processing using SPSS 16.0 for Windows. Data analysis techniques such as: statistic descriptive analysis, classic assumption test, and multiple linear regression test were use in this research. The study shows that the size of a company had a positive and significant effect on earning management, while the leverage and profitability did not affect the earning management. 
Keywords:
Company Size, Leverage, Profitability, Earning Management
Article Details
How to Cite
Damayanti, A. I. P., Pradnyani, N. L. P. S. P., & Suryantari, E. P. (2023). Pengaruh Ukuran Perusahaan, Leverage, dan Profitabilitas terhadap Manajemen Laba pada Sub Sektor Industri Makanan dan Minuman di Bursa Efek Indonesia. JAKADARA: JURNAL EKONOMIKA, BISNIS, DAN HUMANIORA, 1(2). Retrieved from https://jurnal.undhirabali.ac.id/index.php/jakadara/article/view/2283


This work is licensed under a Creative Commons Attribution-NonCommercial-ShareAlike 4.0 International License.