Pengaruh Tingkat Kesehatan Bank terhadap Return Saham pada Bank Umum di BEI Tahun 2019-2021
Article Sidebar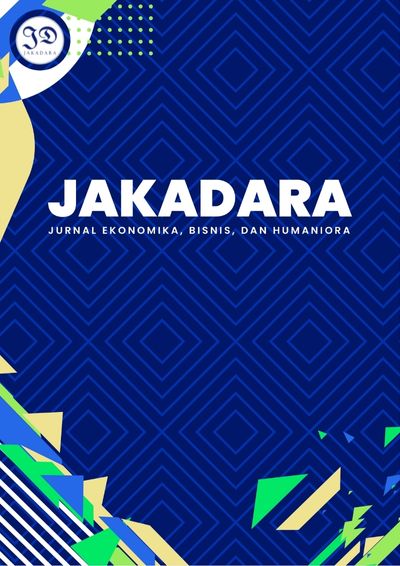 Published: Jan 24, 2023
Dimensions
Statistics
Read Counter :
48
Download :
3
Main Article Content
I Kadek Dwipayana Pramudia
Eka Putri Suryantari
Rai Gina Artaningrum
Abstract
Abstrak
Penelitian ini bertujuan untuk meneliti bagaimana pengaruh tingkat kesehatan bank terhadap return saham pada bank umum yang tercatat di Bursa Efek Indonesia periode 2019-2021. Faktor risk profile yang diproksikan dalam Tingkat kesehatan bank diukur dengan Non-Performing Loan (NPL) & Loan to Deposit Ratio (LDR), faktor Good Corporate Governance (GCG) diukur menggunakan self-assessment GCG, faktor earning yang diprosikan dalam Return on Asset (ROA), Net Interest Margin (NIM), dan faktor capital yang diprosikan dalam Capital Adequancy Ratio(CAR). Subyek survei yakni bank umum dengan menggunakan laporan tahunan 2019-2021 pada situs BEI. Sejumlah 10 bank digunakan sebagai sampel pada studi ini. Analisis regresi berganda dipergunakan untuk menguji hipotesis pada studi ini. Dapat dilihat bahwasanya CAR, NPL, LDR, GCG, ROA, dan NIM berpengaruh signifikan positif terhadap return saham.
Kata kunci:
Kesehatan Bank, Risk-Based Bank Rating, Return Saham, Risk Profile, GCG, Earning, Capital
Abstract
This study aims to determine the effect of bank soundness on stock returns in commercial banks listed on the Indonesian stock exchange for 2019-2021. Factor risk profile which changes to bank soundness level is measured by Non-Performing Loan (NPL) and Loan to Deposit Ratio (LDR), Good Corporate Governance (GCG) factor checks by GCG self-assessment, to earn factor changes return on Assets (ROA), Net Interest Margin (NIM), and capital factors that divide in the Capital Adequacy Ratio (CAR). The subjects of this survey are commercial banks using the 2019-2021 annual report on the IDX website. This study uses multiple regression analysis to test the research hypothesis. The sampling method of this study used a sample of 10 banks. The results of this study indicate that CAR, NPL, LDR, GCG, ROA, and NIM have a significant positive effect on stock returns.
Keywords:
Bank Health, Risk-Based Bank Rating, Returns Stock Risk Profile, GCG, Earnings, Capital
Article Details
How to Cite
Pramudia, I. K. D., Suryantari, E. P., & Artaningrum, R. G. (2023). Pengaruh Tingkat Kesehatan Bank terhadap Return Saham pada Bank Umum di BEI Tahun 2019-2021. JAKADARA: JURNAL EKONOMIKA, BISNIS, DAN HUMANIORA, 1(2). Retrieved from https://jurnal.undhirabali.ac.id/index.php/jakadara/article/view/2287


This work is licensed under a Creative Commons Attribution-NonCommercial-ShareAlike 4.0 International License.