Strategi dan Peranan Customer Relation Dalam Mempertahankan Kepuasan Pelanggan di Agung Automall
Article Sidebar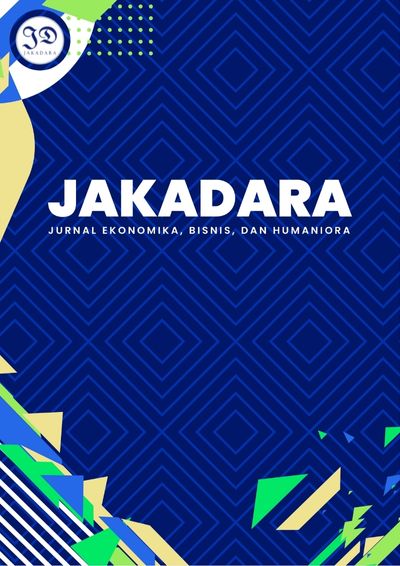 Published: Jan 26, 2023
Dimensions
Statistics
Read Counter :
17
Download :
0
Main Article Content
Kadek Anjali Puti Cahayanti
Gusti Ngurah Joko Adinegara
Komalawati Komalawati
Abstract
Abstrak
Penelitian ini bertujuan untuk mengetahui strategi dan peranan customer relation dalam mempertahankan kepuasan pelanggan di Agung Automall. Penelitian ini dilatarbelakangi oleh tingginya tingkat kepuasan pelanggan pada saat pembelian kendaraan Toyota. Penelitian ini bersifat deskriptif kualitatif dengan menggunakan teknik pengumpulan data yaitu observasi partisipatif, wawancara, dan dokumentasi. Teknik analisis data menggunakan analisis kualitatif berupa uraian dan penjelasan secara deskriptif. Kesimpulannya adalah strategi untuk mempertahankan kepuasan pelanggan dengan mengadakan program-program diantaranya Customer Retention yang biasanya dilakukan oleh para sales dan Customer Relations Coordinator (CRC) yang bertugas untuk menindaklanjuti komunikasi dengan pelanggan, antrian service sebagai bentuk pelayanan terhadap customer yang akan melakukan perawatan dan pemeliharaan kendaraan, Focus Group Discussion dilakukan secara periodik untuk berdiskusi dengan pelanggan. CRC juga mampu menciptakan komunikasi dua arah untuk menjalin hubungan baik dan harmonis dengan para pelanggan maupun calon pelanggan sehingga dapat memenuhi harapan dan keinginan mereka. CRC mengontrol para sales dan juga sales counter, dengan tetap menjalin hubungan baik dengan para pelanggan dengan cara melakukan komunikasi kepada pelanggan. 
Kata kunci:
Strategi, Peranan Customer Relations, Mempertahankan Kepuasan Pelanggan
Abstract
This study aims to determine the strategy and role of customer relations in maintaining customer satisfaction at Agung Automall. This research is motivated by the high level of customer satisfaction when purchasing Toyota vehicles. This research is descriptive qualitative using data collection techniques, namely participatory observation, interviews, and documentation. The data analysis technique used qualitative analysis in the form of descriptions and descriptive explanations. The conclusion is a strategy to maintain customer satisfaction by holding programs including Customer Retention which is usually carried out by sales and Customer Relations Coordinator (CRC) whose job is to follow up communication with customers, service queues as a form of service to customers who will carry out vehicle maintenance and maintenance. Focus Group Discussion is conducted periodically to discuss with customers. CRC is also able to create two-way communication to establish good and harmonious relationships with customers and potential customers so that they can meet their expectations and desires. CRC controls the sales as well as the sales counter, while maintaining good relations with customers by communicating with customers.
Keywords:
Strategy, Role of Customer Relations, Maintain Customer Satisfaction
Article Details
How to Cite
Cahayanti, K. A. P., Adinegara, G. N. J., & Komalawati, K. (2023). Strategi dan Peranan Customer Relation Dalam Mempertahankan Kepuasan Pelanggan di Agung Automall. JAKADARA: JURNAL EKONOMIKA, BISNIS, DAN HUMANIORA, 1(2). Retrieved from https://jurnal.undhirabali.ac.id/index.php/jakadara/article/view/2292


This work is licensed under a Creative Commons Attribution-NonCommercial-ShareAlike 4.0 International License.