Pengaruh Motivasi Kerja, Pembagian Kerja, dan Keterampilan Kerja terhadap Kinerja Karyawan pada Hotel Sibayak Internasional Berastagi Kabupaten Karo Sumatera Utara
Article Sidebar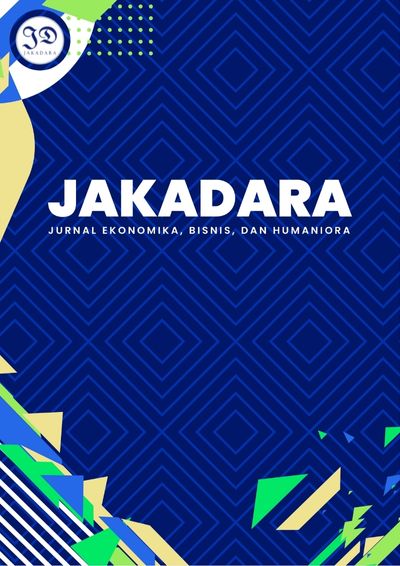 Published: Jan 26, 2023
Dimensions
Statistics
Read Counter :
23
Download :
2
Main Article Content
Sella Sri Hagana Br Tarigan
Gilbert Nainggolan
I Ketut Sirna
Abstract
Abstrak
Tujuan penyelenggaraan riset ini supaya memahami pengaruh pembagian kerja, motivasi, serta keterampilan dengan bersimultan dan berparsial kepada kinerja pegawai. Riset diselenggarakan pada Hotel Sibayak Internasional. Populasi menggunakan karyawan Hotel Sibayak Internasional, sampel sejumlah 70 responden. Teknik menganalisis data mempergunakan pengujian reabilitas, pengujian validitas, analisis regresi liner berganda, pengujian asumsi klasik, pengujian F, analisis korelasi berganda, pengujian t, pengujian koefisien determinasi. Melalui hasil riset, bisa diamati bahwasanya motivasi memengaruhi positif bersignifikan kepada kinerja karyawan, pembagian tugas berpengaruh positif signifikan terhadap kinerja karyawan, keterampilan berpengaruh positif signifikan terhadap kinerja karyawan, secara simultan motivasi, pembagian tugas dan keterampilan berpengaruh signfikan terhadap kinerja karyawan, persamaan regresi sebesar Y= 0,054 + 0,298X1 + 0,357X2 + 0,286X3 dan signifikansi 0,000. Besarnya pengaruh variabel bebas terhadap kinerja karyawan adalah 54,8%. Saran yang dapat diberikan peneliti adalah diharapkan mengawasi karyawan dalam bekerja, memberikan pelatihan dan memberikan pekerjaan yang sesuai dengan kemampuan dan jabatan karyawan.
Kata kunci: Motivasi, Pembagian Tugas, Keterampilan, Kinerja Karyawan
Abstract
This study aims to determine the effect of motivation, division of labor and skills partially and simultaneously on employee performance. This research was conducted at the International Sibayak Hotel. The population uses Sibayak International Hotel employees, a sample of 70 respondents. The data analysis technique uses Validity Test, Reliability Test, Classical Assumption Test, Multiple Linear Regression Analysis, Partial Correlation Analysis, Multiple Correlation Analysis, Coefficient of Determination Test, F Test and t Test. From the results of the study it can be seen that motivation has a significant positive effect on employee performance, division of tasks has a significant positive effect on employee performance, skills have a significant positive effect on employee performance, simultaneously motivation, division of tasks and skills have a significant effect on employee performance, the regression equation is Y= 0.054 + 0.298X1 + 0.357X2 + 0.286X3 and a significance of 0.000. The magnitude of the influence of independent variables on employee performance is 54.8%. Suggestions that can be given by researchers are expected to supervise employees at work, provide training and provide jobs that are in accordance with the abilities and positions of employees.
Keywords: Motivation, Division of Task, Skill, Employee Performance
Article Details
How to Cite
Tarigan, S. S. H. B., Nainggolan, G., & Sirna, I. K. (2023). Pengaruh Motivasi Kerja, Pembagian Kerja, dan Keterampilan Kerja terhadap Kinerja Karyawan pada Hotel Sibayak Internasional Berastagi Kabupaten Karo Sumatera Utara. JAKADARA: JURNAL EKONOMIKA, BISNIS, DAN HUMANIORA, 1(2). Retrieved from https://jurnal.undhirabali.ac.id/index.php/jakadara/article/view/2299


This work is licensed under a Creative Commons Attribution-NonCommercial-ShareAlike 4.0 International License.