Pengaruh Marketing Mix (7P) terhadap Kepuasan dan Loyalitas Konsumen Pada Hotel Aloft Bali Seminyak
Article Sidebar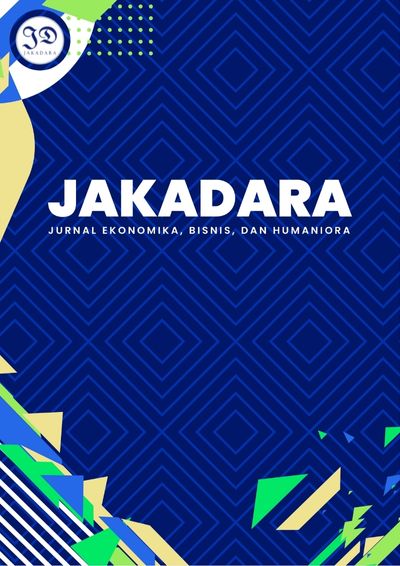 Published: Jan 26, 2023
Dimensions
Statistics
Read Counter :
66
Download :
6
Main Article Content
Ni Putu Evitaria
Gusti Ngurah Joko Adinegara
Putu Chris Susanto
Abstract
Abstrak
Penelitian ini bertujuan untuk mempelajari bagaimana bauran pemasaran Hotel Aloft Bali Seminyak mempengaruhi loyalitas pelanggan dan bagaimana hal itu, pada gilirannya, dipengaruhi oleh tingkat kesenangan pelanggan dengan pengalaman mereka di sana. 98 peserta disurvei di Aloft Hotel di Seminyak, Bali. Dengan mengirimkan survei, peneliti dapat mengumpulkan informasi ini. Analisis jalur dan uji Sobel digunakan sebagai metode analisis. Temuan penelitian ini menunjukkan bahwa (1) Bauran Pemasaran berpengaruh langsung positif dan substansial terhadap kepuasan konsumen, dengan thitung sebesar 8,991 dan tingkat signifikansi 0,000 0,05. (2) Terdapat hubungan langsung yang positif dan signifikan secara statistik (t = 6,055, p = 0,000 0,05) antara bauran pemasaran dengan loyalitas pelanggan. (3) Ada hubungan positif dan signifikan secara statistik (t = 5,318, p = 0,000 0,05) antara kebahagiaan pelanggan dan loyalitas. Z = 4,617 > 1,96 menunjukkan bahwa kepuasan pelanggan memiliki pengaruh tidak langsung yang signifikan terhadap loyalitas pelanggan ketika digunakan dalam bauran pemasaran. Menurut temuan penelitian ini, Aloft Bali Seminyak harus selalu menawarkan fasilitas lengkap, layanan superior, harga wajar, dan akomodasi tanpa noda.
Kata kunci: Loyalitas Konsumen. Kepuasan Konsumen, Marketing Mix
Abstract
This research intends to learn how the marketing mix of the Aloft Bali Seminyak Hotel influences customer loyalty and how that, in turn, is affected by customers' level of pleasure with their experience there. 98 participants were surveyed at the Aloft Hotel in Seminyak, Bali. By sending out surveys, researchers were able to compile this information. Path analysis and the Sobel test are employed as analytical methods. The findings of this study indicate that (1) Marketing Mix has a positive and substantial direct effect on consumer satisfaction, with a t-count of 8.991 and a significance level of 0.000 0.05. (2) There is a positive and statistically significant (t = 6.055, p = 0.000 0.05) direct relationship between the marketing mix and customer loyalty. (3) There is a positive and statistically significant (t = 5.318, p = 0.000 0.05) relationship between customer happiness and loyalty. Z = 4.617 > 1.96 indicates that customer satisfaction has a significant indirect effect on customer loyalty when used within a marketing mix. According to the findings of this study, the Aloft Bali Seminyak must constantly offer full amenities, superior service, reasonable rates, and spotless accommodations.
Keywords: Consumer Loyalty, Consumer Satisfaction, Marketing Mix
Article Details
How to Cite
Evitaria, N. P., Adinegara, G. N. J., & Susanto, P. C. (2023). Pengaruh Marketing Mix (7P) terhadap Kepuasan dan Loyalitas Konsumen Pada Hotel Aloft Bali Seminyak. JAKADARA: JURNAL EKONOMIKA, BISNIS, DAN HUMANIORA, 1(2). Retrieved from https://jurnal.undhirabali.ac.id/index.php/jakadara/article/view/2303


This work is licensed under a Creative Commons Attribution-NonCommercial-ShareAlike 4.0 International License.