SWEAR WORDS USED IN "ZOMBIELAND" MOVIE
Article Sidebar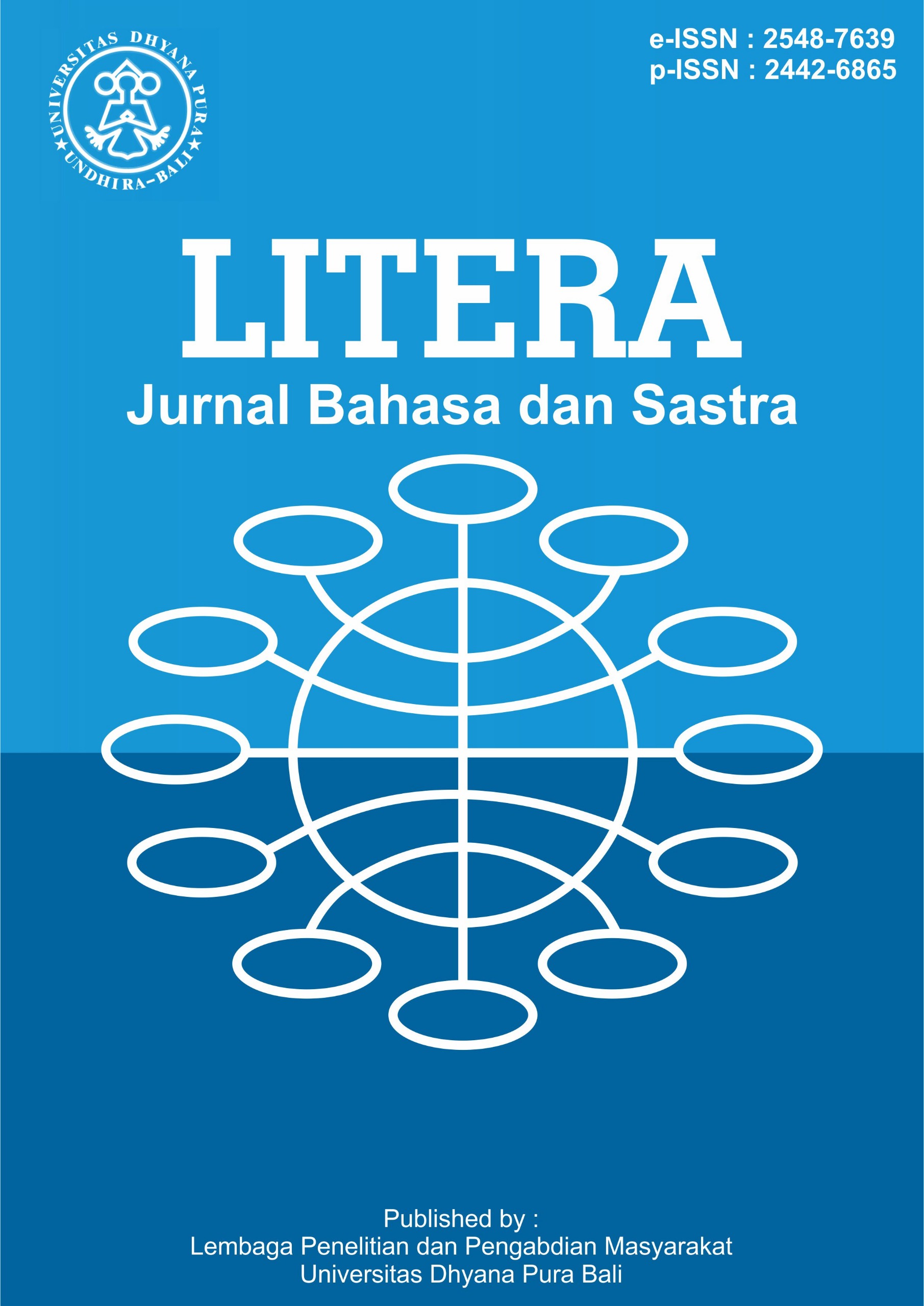 Published: Aug 14, 2023
Dimensions
Statistics
Read Counter :
4
Download :
13
Main Article Content
I Made Anka Andika
Abstract
Skripsi ini berjudul "Swear Word Used in Zombieland Movie". Penelitian ini bertujuan untuk
mengetahui jenis kata makian yang digunakan dalam film "Zombieland" dan menganalisis
bagaimana kata makian yang digunakan dalam film zombieland. Data penelitian ini diambil
dari film "Zombieland". Pengumpulan data dilakukan melalui dokumentasi dan studi pustaka
dengan teknik catat. Metode yang digunakan untuk menganalisis data adalah metode
deskriptif-kualitatif. Teori yang digunakan dalam penelitian ini adalah teori yang
dikemukakan oleh Hughes' teori tentang jenis-jenis umpatan dan tujuan utama dari teori fungsi
kata umpatan oleh Liedlich dikombinasikan dengan teori motif kata umpatan oleh Andersson
dan Trudgill. Temuan penelitian ini menunjukkan ada tujuh jenis kata makian yang ditemukan
dalam film "Zombieland" yaitu, kata umpatan yang berhubungan dengan istilah genital,
istilah ekskretoris, istilah binatang, istilah latar belakang pribadi, istilah seksual, istilah tabu
atau agama atau sumpah, dan istilah penyakit jiwa. Dalam hal penggunaan kata makian dalam
film, ada enam tujuan penggunaan kata makian yaitu, untuk menarik perhatian,
mendiskreditkan, memprovokasi, Bahasa pertemanan, untuk menciptakan identifikasi pribadi
yang kuat, dan memberikan katarsis. Motif dari kata umpatan dalam film "zombieland" ada
tiga yaitu, motif sosial,motif psikologi, dan motif linguistik.
Article Details
This work is licensed under a Creative Commons Attribution-NonCommercial-ShareAlike 4.0 International License.


This work is licensed under a Creative Commons Attribution-NonCommercial-ShareAlike 4.0 International License.
References
Andersson, L.-G. and Trudgill, P. (1990) Bad language. Oxford, UK; Cambridge, Mass.,
USA: Basil Blackwell.
Hughes, G. (1991) Swearing: a social history of foul language, oaths and profanity in
English. 1. publ. in paperb. in the USA. Oxford: Blackwell (The Language library).
Jay, T. (1992) Cursing in America: A Psycholinguistic Study of Dirty Language in the
Courts, in the Movies, in the Schoolyards, and on the Streets. John Benjamins
Publishing.
Karjalainen, M. (2002) 'Where have all the swearwords gone: An analysis of the loss of
swearwords in two Swedish translations of JD Salingers Catcher in the Rye'.
Liedlich, R.D. (1973) Coming to terms with language: an anthology, New York: Wiley.
Ljung, M. (2010) Swearing: A cross-cultural linguistic study. Springer.
Susetyaningsih, R. (2014) A SOCIOLINGUISTIC ANALYSIS OF SWEARING UTTERED BY
THE MAIN CHARACTER IN THE FILM THE WOLF OF WALL STREET. Thesis.
YOGYAKARTA STATE UNIVERSITY.