DEIXIS IN THE CARTOON MOVIE "COCO (2017)": PRAGMATICS ANALYSIS
Article Sidebar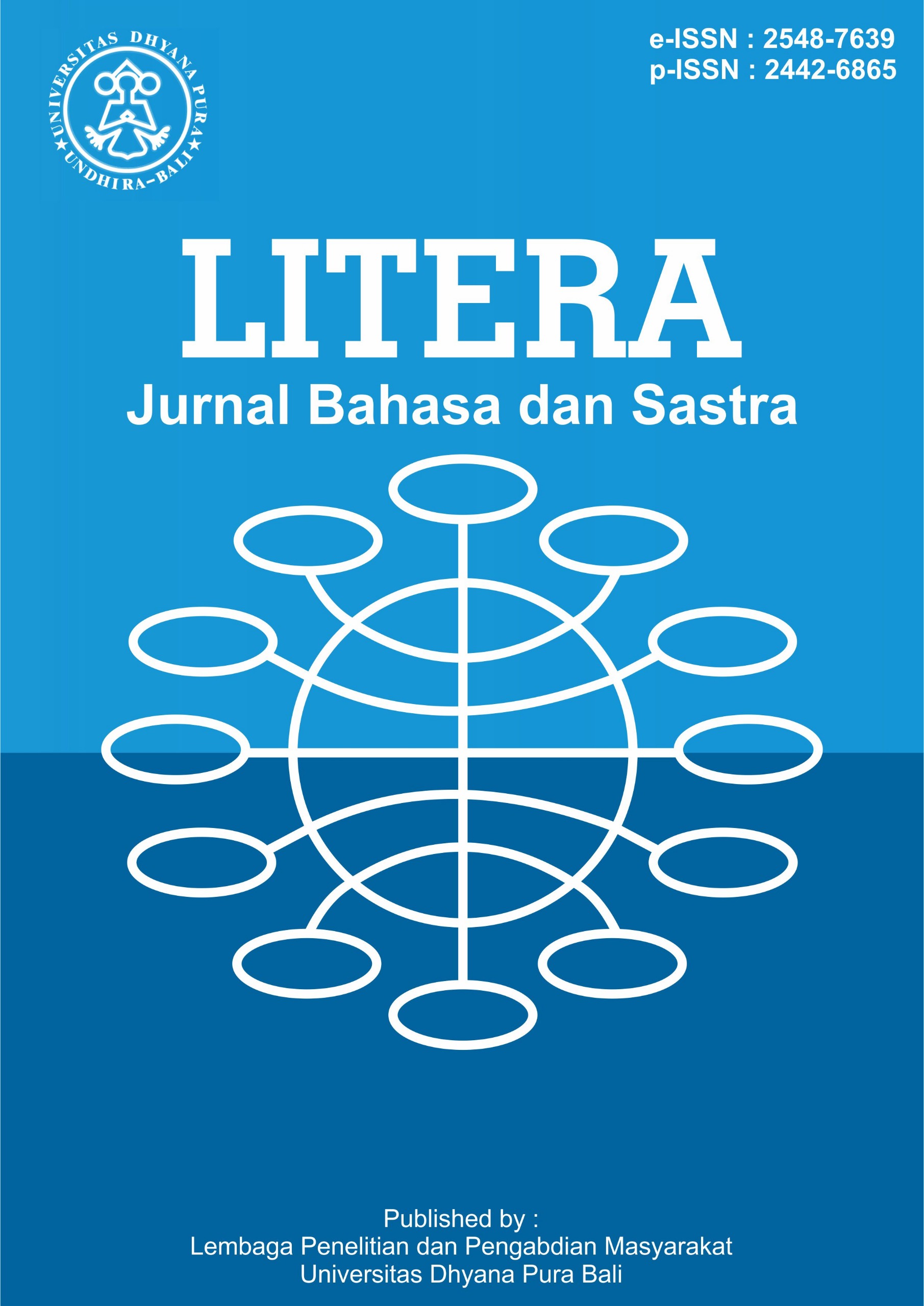 Published: Aug 15, 2023
Keywords:
deiksis, tipe, frekuensi, film Coco
Dimensions
Statistics
Read Counter :
8
Download :
17
Main Article Content
Jro Balian Meilany Eka Yanti
Ketut Artawa
Yana Qomariana
Abstract
Penelitian ini berjudul Deiksis dalam Film Kartun "Coco (2017)": Analisis Pragmatik.
Deiksis merupakan bagian dari pragmatik yang membahas tentang ungkapan atau konteks
dalam sebuah kalimat, hal ini mengacu pada fenomena dimana untuk memahami makna kata
dan frasa tertentu dalam sebuah ujaran dibutuhkan informasi kontekstual. Tujuan dari
penelitian ini adalah (1) mengidentifikasi dan mengklasifikasikan jenis-jenis deiksis dalam
film kartun "Coco" (2) menganalisis frekuensi penggunaan deiksis dalam film kartun "Coco".
Data dikumpulkan dengan menggunakan metode dokumentasi dan observasi, yang dilakukan
dengan cara menandai dan mencatat kalimat-kalimat yang mengandung deiksis dari
transkrip. Dalam menganalisis data, digunakan metode kualitatif, dengan mengelompokkan
deiksis berdasarkan jenisnya dan menggunakan rumus analisis statistik untuk menghitung
persentase frekuensi. Metode untuk menyajikan analisis adalah metode formal. Hasil
penelitian menunjukkan bahwa ada lima jenis deiksis yang ditemukan dalam film "Coco",
yaitu deiksis persona (yang dibagi menjadi persona pertama, persona kedua, dan persona ketiga), deiksis tempat, deiksis waktu, deiksis wacana, dan deiksis sosial. Deiksis persona
adalah jenis deiksis yang mengacu pada orang dan kata ganti, deiksis tempat yang mengacu
pada tempat atau ruangan, deiksis waktu adalah penunjuk waktu melalui bahasa atau waktu,
deiksis wacana mengacu pada lokasi teks atau wacana, deiksis sosial merupakan jenis deiksis
yang menyangkut peran partisipan. Dan jika dihitung frekuensinya, deiksis orang merupakan
jenis yang paling banyak digunakan dalam film ini, yaitu sebanyak 77,38% dan didominasi
oleh deiksis orang pertama. Sementara itu, deiksis waktu merupakan jenis yang paling sedikit
digunakan, yaitu 0,67%.
Article Details
How to Cite
Jro Balian Meilany Eka Yanti, Ketut Artawa, & Yana Qomariana. (2023). DEIXIS IN THE CARTOON MOVIE "COCO (2017)": PRAGMATICS ANALYSIS. LITERA : Jurnal Litera Bahasa Dan Sastra, 9(1). Retrieved from https://jurnal.undhirabali.ac.id/index.php/litera/article/view/2538
This work is licensed under a Creative Commons Attribution-NonCommercial-ShareAlike 4.0 International License.


This work is licensed under a Creative Commons Attribution-NonCommercial-ShareAlike 4.0 International License.
References
Abdulameer, T. A. S. A. (2019). A Pragmatic Analysis of Deixis in a Religious Text.
International Journal of English Linguistics, 9(2), 292.
https://doi.org/10.5539/ijel.v9n2p292
Eti Purwitasari, 2201404562. (2009). DEIXIS IN HARRY POTTER and THE HALF BLOOD
PRINCE by J.K. ROWLING AND ITS TRANSLATION INTO INDONESIAN [Other,
Universitas Negeri Semarang]. http://lib.unnes.ac.id/783/
Fatkhunurohmah, N. I. (2013). A Pragmatic Analysis Of Personal Deixis In Iron Lady Movie
Manuscript [S1, Universitas Muhammadiyah Surakarta].
https://doi.org/10/07._Chapter_IV.pdf
Grundy, P. (2013). Doing Pragmatics. Routledge.
Levinson, S. C. (1983). Pragmatics. Cambridge University Press.
Purba, R. (2015). DEIXIS IN INAUGURATION SPEECH OF PRESIDENT SUSILO
BAMBANG YUDHOYONO. Jurnal Mantik Penusa, 17(1), Article 1. http://ejurnal.
pelitanusantara.ac.id/index.php/mantik/article/view/125
Sasmita, R., Hardiah, M., & Elfrida. (2018). AN ANALYSIS OF DEIXIS AND ITS
REFERENCE USED BY MAIN CHARACTER IN "A THOUSAND WORDS" MOVIE
SCRIPTBY STEVE KOREN. Journal of English Education and Teaching, 2(1), 68–75.
https://doi.org/10.33369/jeet.2.1.68-75
Yule, G. (1996). Pragmatics. OUP Oxford