Romantic Easter Dinner Dengan Konsep Live BBQ Untuk Meningkatkan Kunjungan Tamu di Hotel Atanayas
Article Sidebar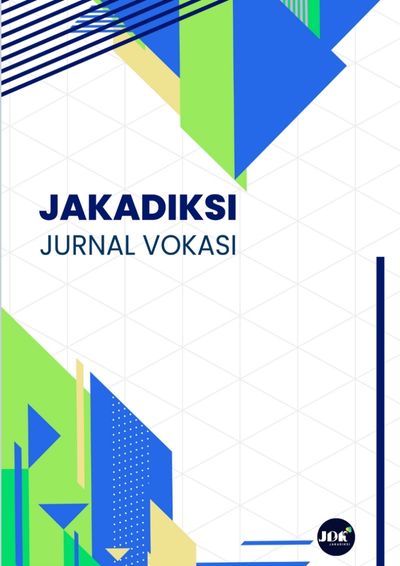 Published: Jan 27, 2023
Dimensions
Statistics
Read Counter :
8
Download :
5
Main Article Content
Yohanes Y. Bicar
Yovita Oliva Rea
Brigita Novita Weling
Maria Yohana Yovita Sari
Boromeus Adi Rawi Kami
Ni Kadek Widyastuti
I Made Agus Tiaga
Abstract
Abstrak
Tujuan dari proyek tugas akhir ini adalah menghasilkan Romantic Easter Dinner Event dengan konsep Live BBQ dinner serta menghasilkan standar resep dari contoh hasil produk Lekun yang disajikan dalam easter dinner. Judul dari proyek tugas akhir ini adalah Romantic Easter Dinner dengan konsep Live BBQ Dinner untuk Mengembangkan Ketertarikan Tamu Hotel dalam berwisata. Objek dalam tugas akhir ini adalah Romantic Easter Dinner Event party, serta beberapa responden untuk dijadikan narasumber dalam wawancara mengenai Easter Dinner Event. Data daam pryek tuas ahir ini dikumpulkan dengan empat metode yaitu observasi yang dilakukan di Atanaya Hotel Kuta Bali sebagai tempat berlangsungnya Easter event, wawancara dengan beberapa narasumber, membagikan kuisioner kepada responden serta metode dokumentasi. Data akan dianalisis secara kuantitatif (yang berupa data kualitatif yang di angkakan seperti hasil dari kuisioner) dan kualitatif.
Kata kunci: BBQ, Easter, Dinner, Event
Abstract
The ains of the final project is to produce a Romantic Easter Dinner Event with the concept of a Live BBQ dinner and to produce a standard recipe from examples of the Lekun products served in an easter dinner. The titled of this final project is Romantic Easter Dinner with the concept of Live BBQ Dinner to Develop Interest of Hotel Guest in traveling. The object of the final project is the Romantic Easter Dinner Event party, as well as several respondents to be used as resource persons in interview regarding the Easter Dinner Event.Data were collected by four methods there are, observatios at Atanaya Hotel Kuta Bali as the venue for the Easter event, interviews with several sources, distributing questionnaires to respondents and documentation methods. The data will be analyzed quantitave (in the from of quanlitative data that is numbered as the results of the questionnaire) and qualitative.
Keywords: BBQ, Easter, Dinner, Event
Article Details
How to Cite
Bicar, Y. Y., Rea, Y. O., Weling, B. N., Sari, M. Y. Y., Kami, B. A. R., Widyastuti, N. K., & Tiaga, I. M. A. (2023). Romantic Easter Dinner Dengan Konsep Live BBQ Untuk Meningkatkan Kunjungan Tamu di Hotel Atanayas. JAKADIKSI: JURNAL VOKASI, 1(2). Retrieved from https://jurnal.undhirabali.ac.id/index.php/jakadiksi/article/view/2344


This work is licensed under a Creative Commons Attribution-NonCommercial-ShareAlike 4.0 International License.