Pengaruh Iklan, Kepuasan Konsumen, Kualitas Pelayanan Terhadap Penjualan Makanan di J4 Hotel Legian
Article Sidebar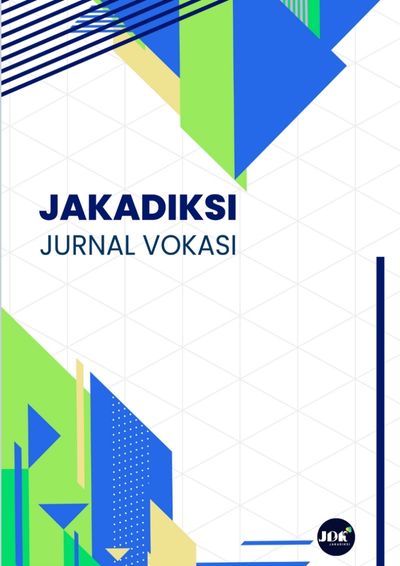 Published: Jan 27, 2023
Dimensions
Statistics
Read Counter :
14
Download :
1
Main Article Content
Filipus Zuther
I Wayan Ruspendi Junaedi
Ida Bagus Kurniawan
Abstract
Abstrak
Penjualan adalah proses sosial manajerial di mana individu dan kelompok mendapatkan apa yang mereka butuhkan dan inginkan, menciptakan, menawarkan, dan mempertukarkan produk yang bernilai dengan pihak lain. Zaman sekarang ini perkembangan dan pertumbuhan ekonomi semakin meningkat pesat, mulai dari perkembangan berbagai macam jenis produk, serta persaingan antar produsen yang semakin ketat, sehingga perusahaan harus bisa bertindak secara cepat dan efektif dalam usaha memasarkan untuk mendapatkan mangsa pasar seluas mungkin Dengan memasarkan makanan di sosial media ternyata J4 Hotel Legian mendapatkan feedback positif dari masyarakat sekitar. Mulai dari komen yang baik, harga yang terjangkau, dan mendapatkan orderan yang banyak. Ini menjadi salah satu penghasilan yang cukup mempengaruhi untuk kelangsungan kehidupan hotel ini. Metode penelitian yang digunakan adalah kuantitatif kemudian menghitung dengan SPSS dan menganalisis hasil penelitian kemudian menentukan hasil dari penelitian. Hasil penelitian ini Secara parsial iklan membagikan pengaruh positif serta signifikan yang di dapat pada penjualan makanan di J4 Hotel Legian, semakin tinggi kepuasan konsumen maka semakin meningkat penjualan makananan J4 Hotel. Semakin tinggi kualitas pelayanan yang dicoba J4 Hotel maka semakin baik juga penjualan makananan J4 Hotel. kepuasan konsumen dan kualitas pelayanan memberikan kontribusi 97,4% terhadap penjualan makanan (Y) di J4 Hotel Legian.
Kata kunci: Iklan, Layanan, Kepuasan Konsumen
Abstract
Selling is a managerial social process by which individuals and groups obtain what they need and want, create, offer, and exchange products of value with others. Nowadays, economic development and growth is increasing rapidly, starting from the development of various types of products, as well as increasingly fierce competition between producers, so companies must be able to act quickly and effectively in marketing efforts to get the widest possible market prey. In the media, it turns out that J4 Hotel Legian has received positive feedback from the surrounding community. Starting from good comments, affordable prices, and getting lots of orders. The research method used is quantitative and then calculates with SPSSS and analyzes the results of the study and then determines the results of the study. The results of this study Partially, advertisements share a positive and significant influence on food sales at J4 Hotel Legian, the higher consumer satisfaction, the more food sales increase at J4 Hotel. the higher the quality of service that J4 Hotel tries, the better the sales of J4 Hotel's food. consumer satisfaction and service quality contributed 97.4% to food sales (Y) at J4 Hotel Legian.
Keywords: Advertising, Service, Consumer Satisfaction
Article Details
How to Cite
Zuther, F., Junaedi, I. W. R., & Kurniawan, I. B. (2023). Pengaruh Iklan, Kepuasan Konsumen, Kualitas Pelayanan Terhadap Penjualan Makanan di J4 Hotel Legian. JAKADIKSI: JURNAL VOKASI, 1(2). Retrieved from https://jurnal.undhirabali.ac.id/index.php/jakadiksi/article/view/2345


This work is licensed under a Creative Commons Attribution-NonCommercial-ShareAlike 4.0 International License.