WOMEN'S LANGUAGE FEATURES USED BY MAIN FEMALE CHARACTER IN SUFFRAGETTE MOVIE
Article Sidebar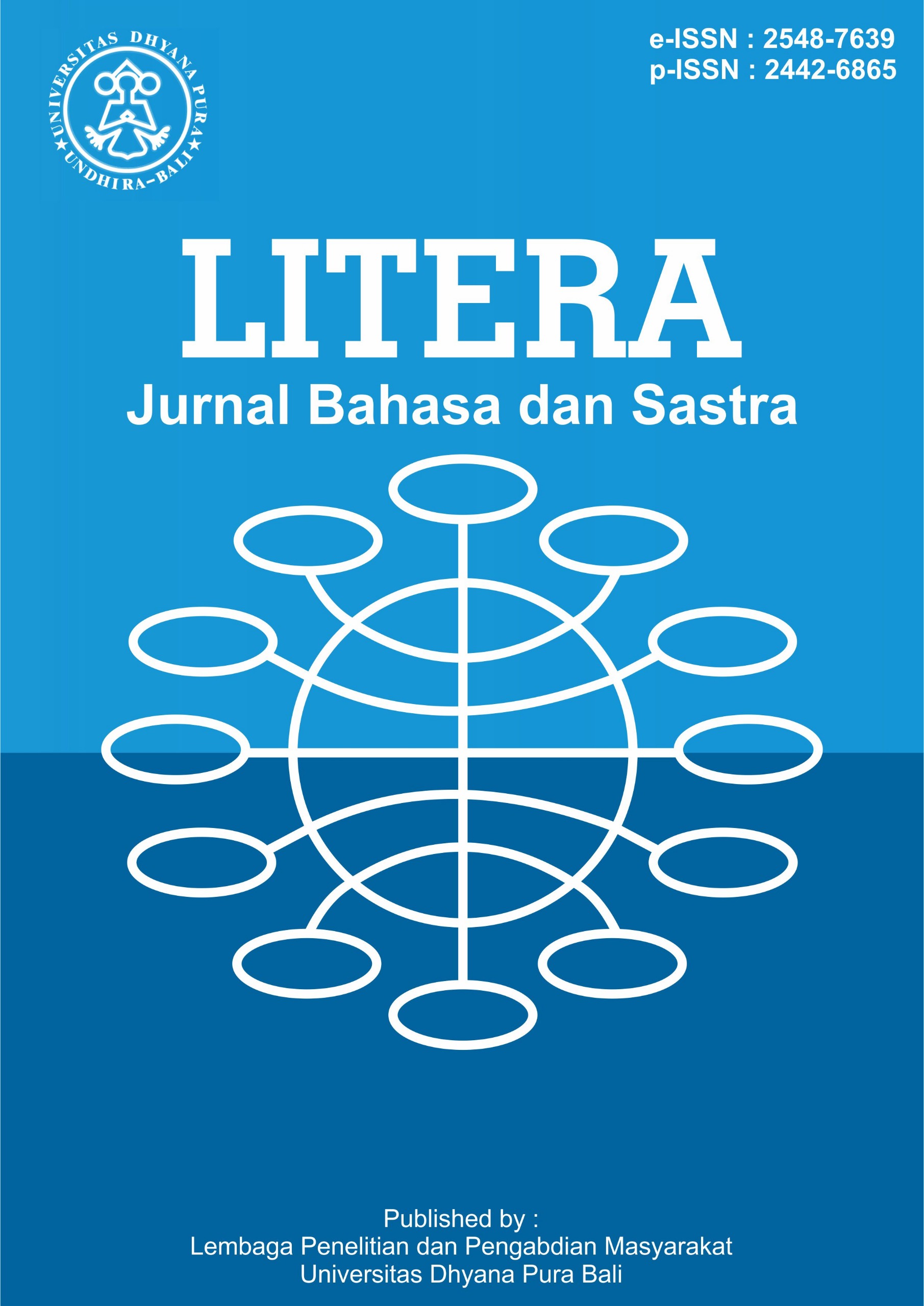 Published: Aug 14, 2023
Keywords:
gender, bahasa wanita, fitur bahasa wanita, fungsi bahasa wanita
Dimensions
Statistics
Read Counter :
4
Download :
18
Main Article Content
I Putu Satyaprema Ridana
Abstract
Penelitian ini bertujuan untuk mendeskripsikan fitur bahasa wanita dan fungsi dari
setiap fitur tersebut yang digunakan oleh Maud yang merupakan pemeran utama wanita pada
film Suffragette. Data pada penelitian ini dikumpulkan melalui film Suffragette dan naskah
film tersebut. Data pada penelitian ini berupa ucapan dari Maud Watts yang merupakan tokoh
utama wanita dalam film Suffragette. Data penelitian ini diperoleh melalui metode observasi
dan dokumentasi. Metode kualitatif diterapkan pada penelitian ini untuk menganalisis data.
Data dianalisis berdasarkan teori yang dikemukakan oleh Lakoff (1973) tentang fitur bahasa
wanita dan teori yang dikemukakan oleh Pearson (1985) tentang lima fungsi bahasa wanita.
Temuan dari penelitian ini menunjukan bahwa ada delapan fitur bahasa wanita yang
digunakan oleh Maud pada film Suffragette. Fitur-fitur tersebut yaitu lexical hedges atau
fillers (10.84%), tag questions (2.41%), rising intonation on declarative (15.66%), empty
adjective (3.61%), intensifiers (7.23%), hypercorrect grammar (38.55%), super polite form
(7.23%) and emphatic stress (14.46%). Berdasarkan teori dan temuan, peneliti menemukan
lima fungsi bahasa wanita. Antara lain, untuk mengekspresikan ketidakpastian, untuk
mendapatkan respon, untuk melembutkan ucapan, untuk memulai diskusi, dan untuk
mengekspresikan perasaan.
Article Details
How to Cite
I Putu Satyaprema Ridana. (2023). WOMEN'S LANGUAGE FEATURES USED BY MAIN FEMALE CHARACTER IN SUFFRAGETTE MOVIE. LITERA : Jurnal Litera Bahasa Dan Sastra, 9(1). Retrieved from https://jurnal.undhirabali.ac.id/index.php/litera/article/view/2536
This work is licensed under a Creative Commons Attribution-NonCommercial-ShareAlike 4.0 International License.


This work is licensed under a Creative Commons Attribution-NonCommercial-ShareAlike 4.0 International License.
References
Creswell, J.W., 2009. Research design: Qualitative, quantitative, and mixed methods
research. Thousand Oaks, CA: Sage Publications, Inc. and mathematics anxiety in
mathematics problem-solving efficiency. Learning and Individual Differences 20,
–283.
Furfey, P.H., 1944. Men's and women's language. The American Catholic Sociological
Review 5, 218–223.
Holmes, J., 2013. An introduction to sociolinguistics. Routledge.
Lakoff, R., 1973. Language and woman's place. Language in society 2, 45–79.
Lakoff, R., Lakoff, R.T., 2004. Language and woman's place: Text and commentaries.
Oxford University Press, USA.
Murti, M.L., 2018. An Analysis of Women's Language Features Used by Mia in The
Princess Diaries Movie. English Language Education Study Program Department
of Language and Arts Education Faculty of Teachers Training and Education
Sanata Dharma University Jogjakarta.
Pearson, J.C., Turner, L.H., Todd-Mancillas, W., 1985. Gender and communication .
Dubuque, IA: Wm. C. Brown Publishers.
Pebrianti, A.A., 2013. Women's language features used by Indonesian female bloggers.
Passage 1, 109–118.
Rubbyanti, M.A., 2017. Women's language in sense and sensibility BBC miniseries: A
sociolinguistic study. Sastra Inggris-Quill 6, 43–55.