REPRESENTATIVE ILLOCUTIONARY ACT USED BY MAIN CHARACTER IN SOMEONE GREAT MOVIE
Article Sidebar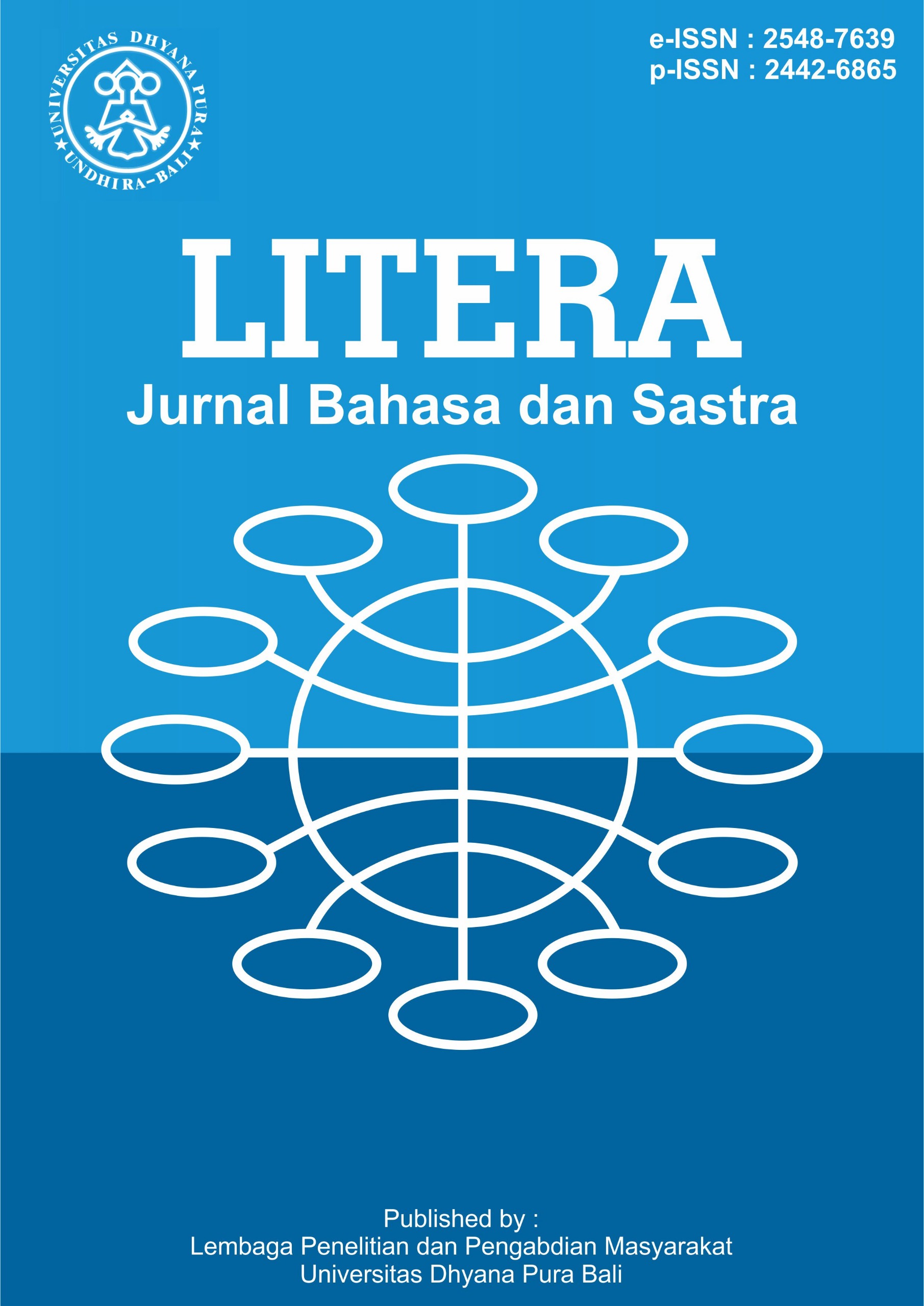 Published: Aug 15, 2023
Keywords:
Pragmatik, Tindak Ilokusi, Represntatif, Konteks Situasi
Dimensions
Statistics
Read Counter :
5
Download :
13
Main Article Content
Yohana Martuah Purba
Abstract
Pragmatik adalah studi tentang bagaimana konteks mempengaruhi makna dari maksud
pembicara untuk diinterpretasikan oleh pendengar. Sebagian besar ilokusi dapat ditemukan
dalam percakapan, termasuk percakapan dalam film. Tujuan dari penelitian ini adalah untuk
menemukan jenis-jenis representatif dan juga makna yang dimaksud yang digunakan oleh
tokoh utama dalam film Someone Great. Penelitian ini berfokus pada teori yang didasarkan
pada Searle (1976) untuk menemukan jenis-jenis representatif dan Leech (1983) untuk
menemukan makna yang dimaksudkan melalui konteks situasi. Data kualitatif digunakan
dalam penelitian ini. Data dianalisis secara deskriptif dengan kata-kata. Hasil penelitian
menemukan bahwa ada enam jenis pernyataan, lima jenis informasi, satu jenis prediksi, dua
jenis deskripsi, dua jenis desakan, dua jenis keluhan dan dua jenis klaim. Selain itu, ada lima
komponen situasi konteks yang ditemukan dalam penelitian ini, yaitu penutur dan lawan tutur,
konteks tuturan, tujuan suatu tuturan, dan tuturan sebagai bentuk tindakan atau kegiatan, serta
tuturan sebagai produk dari tindakan verbal.
Article Details
How to Cite
Yohana Martuah Purba. (2023). REPRESENTATIVE ILLOCUTIONARY ACT USED BY MAIN CHARACTER IN SOMEONE GREAT MOVIE. LITERA : Jurnal Litera Bahasa Dan Sastra, 9(1). Retrieved from https://jurnal.undhirabali.ac.id/index.php/litera/article/view/2540
This work is licensed under a Creative Commons Attribution-NonCommercial-ShareAlike 4.0 International License.


This work is licensed under a Creative Commons Attribution-NonCommercial-ShareAlike 4.0 International License.
References
Allen, R. C., and D. Gomery. 1985. Film History: Theory and Practice. New York: McGraw-
Hill, Inc.
Austin, J.L. 1962. How To Do Things With Words. Oxford: Clarendon Press.
Bogdan, R, Taylor, S.J, Taylor, S.S. (1975). Introduction to qualitative research methods: A
phenomenological approach to the social sciences. New York: Wiley-Interscience.
Davis, K, & Newstrom, W.J. (1989). Human Behavior At Work: Organizational Behavior.
New York: McGraw Hill International.
Della, F. 2018. An Analysis of Directive Speech Act by Searle Theory in "Sleeping Beauty"
Movie Script. Bengkulu: Universitas Bengkulu
Herman. (2015). Illocutionary acts analysis of Chinese in Pematangsiantar. International
Journal of Humanities and Social Science Invention. Vol. 4 Issue 12: 41-48
Hornby, A.S. 1995. Oxford Advanced Learner's Dictionary of Current English. Oxford :
Oxford University Press.
Hutajulu, F.S.L, Herman. (2019). Analysis of illocutionary Act in The Movie You Are My
Home English Subtitle. Journal of English Educational Study (JEES) Vol.2. No.1: 29-36.
Isnawati, F.D. 2015. Speech act analysis of the main character in shrek movie script. Jember:
Universitas Jember.
Leech, G. 1983. Principles of Pragmatics. London: Longman Levinson, S.C. 1983. Pragmatics. Cambridge: Cambridge University Press.
Lorimer, L. 1991. Grolier Encyclopedia of Knowledge Vol.7. Danbury Connecticut: Grolier.
Morris, C.W. 1938. Foundations of the theory of signs. Chicago: University of Chicago Press.
Putri, P.D.S.P. 2018. Representative and Commissive Illocutionary Acts in Donald Trump's
Inauguration Speech. Denpasar: Universitas Udayana.
Searle, J.R. (1969). Speech acts: An essay in the philosophy of language. Cambridge:
Cambridge university press.
Searle, J.R. (1976). A Classification of Illocutionary Act. Language in Society. Vol. 5, No, 1,
April. pp. 1-23.
Yule, G. (1996). Pragmatics. Oxford: Oxford University Press.